Glutamine, the most abundant free amino acid in the blood and skeletal muscles, serves various essential functions in the body. It plays a vital role in stimulating glycogen synthase, the enzyme responsible for synthesizing and storing glycogen, which can lead to enhanced fuel reserves in muscles and the liver when supplemented.
Additionally, Glutamine is a diverse amino acid utilized in critical processes, including supporting rapidly dividing cells in the gut and immune system. Studies have demonstrated that L-Glutamine supplementation can effectively minimize muscle breakdown and enhance protein metabolism, making it a valuable asset for those looking to optimize their muscle health and overall performance.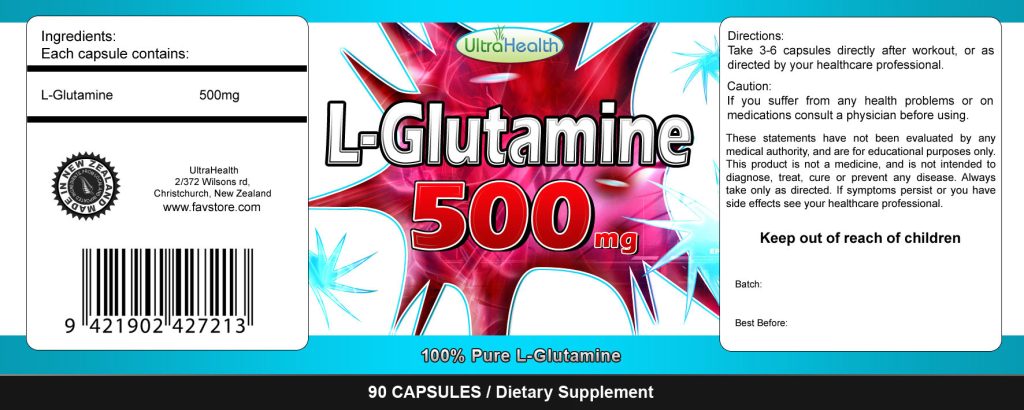 What are the ingredients?
Contains 500mg of L-glutamine.
This essential amino acid plays a crucial role in supporting athletic performance and overall well-being
Whats the recommended dosage?
Each bottle contain 90 pills (Take 3 – 6 pills.)
What is the estimated delivery time?
Delivery time varies based on the location and type of order.
For our valued New Zealand customers, if you place your order before 2pm, you can expect to receive it on the following business day.
International shipments usually take 1 – 2 weeks. Once we dispatch your order, we will send you an email notification containing a tracking number for your convenience. Please note that we ship orders daily from Monday to Friday.
Do you have a money back guarantee?
If, by any chance, you are not completely satisfied with the results, you can choose to return the products within 60 days of purchase. We are more than happy to provide a full refund (excluding any shipping fees) for any number of unopened bottles and up to one opened bottle, regardless of whether it's completely empty! Please contact us for return instructions.