What is the recommended dosage?
To fulfill your daily vitamin requirements, simply take 1 capsule per day.
Each bottle contains 180 capsules.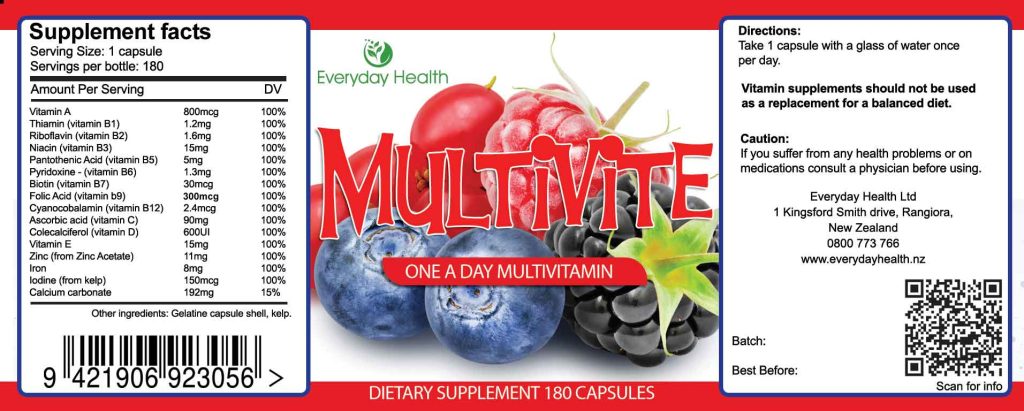 What does Multivite contain?
Multivite contains a balanced blend of essential vitamins and minerals to support your daily nutritional needs. It includes the recommended daily intake of Vitamin A, Thiamin (Vitamin B1), Riboflavin (Vitamin B2), Niacin (Vitamin B3), Pantothenic Acid (Vitamin B5), Pyridoxine (Vitamin B6), Biotin (Vitamin B7), Folic Acid (Vitamin B9), Cyanocobalamin (Vitamin B12), Ascorbic Acid (Vitamin C), Colecalciferol (Vitamin D), Vitamin E, Zinc, Iron, Iodine, and Calcium.
Are there any side effects?
If taking other supplements or drugs check with your doctor first.

What is the estimated delivery time?
Delivery time varies based on the location and type of order.
For our valued New Zealand customers, if you place your order before 2pm, you can expect to receive it on the following business day.
International shipments usually take 1 – 2 weeks. Once we dispatch your order, we will send you an email notification containing a tracking number for your convenience. Please be aware that orders are shipped daily from Monday to Friday.
Do you have a money back guarantee?
If, by any chance, you are not completely satisfied with the results, you can choose to return the products within 60 days of purchase. We are more than happy to provide a full refund (excluding any shipping fees) for any number of unopened bottles and up to one opened bottle, regardless of whether it's completely empty! Please contact us for return instructions.