Elevate Your Fitness Journey with Muscle Max XTREME!
Looking to achieve your muscle-building goals and redefine your strength? Introducing Muscle Max, a powerful natural herbal formulation designed to enhance your muscle strength and size. Optimize Your Muscle Growth: Muscle Max's carefully crafted blend of natural botanicals is designed to support your muscle growth potential, helping you achieve a sculpted physique.
For All Fitness Enthusiasts: Whether you're an athlete or a fitness enthusiast, Muscle Max is your perfect training partner, catering to individuals of all fitness levels.
100% Natural and Safe: With Muscle Max, you can trust that you're getting a natural product without any harmful additives or chemicals.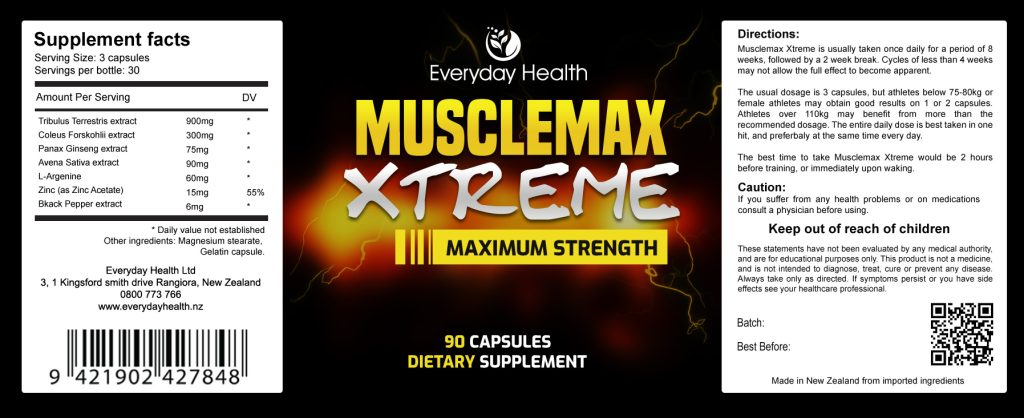 What do the pills contain?
The elements that make MuscleMax Xtreme such an effective supplement are listed below:
Tribulus Terrestris (P.E. 20%), Coleus Forskohlii (P.E. 10:1), Panax Ginseng (P.E. 20%), Avena Sativa (P.E. 10:1), L-argenine, Zinc oxide, Piperine
What's the dosage?
The recommended dosage of Musclemax Xtreme varies based on individual factors. For most users, the typical dosage is 3 capsules. However, female athletes or athletes below 75-80kg might achieve positive results with 1 or 2 capsules. Conversely, athletes over 110kg may benefit from a dosage exceeding the standard recommendation. For optimal results, it's best to take the entire daily dose in one administration, preferably at the same time each day. The ideal times for consumption are either 2 hours before training or immediately upon waking.
Each bottle contain 90 pills
Are there any side effects?
Musclemax Xtreme exclusively incorporates natural botanicals, ensuring a safe supplement without unpleasant side effects. However, if you are currently on medication or have any medical conditions, it's essential to consult your doctor before using the product.
What is the estimated delivery time?
Delivery time varies based on the location and type of order.
For our valued New Zealand customers, if you place your order before 2pm, you can expect to receive it on the following business day.
International shipments usually take 1 – 2 weeks. Once we dispatch your order, we will send you an email notification containing a tracking number for your convenience. Please note that we ship orders daily from Monday to Friday.
Do you have a money back guarantee?
If, by any chance, you are not completely satisfied with the results, you can choose to return the products within 60 days of purchase. We are more than happy to provide a full refund (excluding any shipping fees) for any number of unopened bottles and up to one opened bottle, regardless of whether it's completely empty! Please contact us for return instructions.